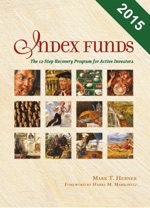 Have you been unsuccessfully searching Netflix for a 72-minute documentary about index funds? Well, your wait is finally over. Game of Thrones, watch your back! 🙂
Also adapted from a book of the same title, Index Funds: The 12-Step Recovery Program for Active Investors systematically attacks the various reasons that people approach individual stock-picking and/or paying for actively-managed mutual funds. For example, there is the idea of picking an all-star manager, the idea of market timing, and the idea of picking individual stocks.
I would warn that content is targeted more towards investors with some experience and less towards novices. They apparently also recognized that the material can be rather dense, and thus also broke it up into 12 parts. Here is Part 1:
Both the book and film were created by Mark Hebner of Index Fund Advisors (IFA), a fee-only wealth management firm that offers mutual funds from Dimensional Fund Advisors (DFA). Found via co-producer Robin Powell. As the book promotes the purchase of DFA funds, which can only be bought through affiliated advisors such as IFA, the material can be seen as self-promotional. However, having read the original book 10 years ago, I did not feel that the content was overly self-promotional. If you focus on the academic research by Nobel Laureates and historical data presented, there is a lot of useful knowledge to be gained.
If you're interested in more detail, you can buy a physical copy for $8 at Amazon, a Kindle eBook version for $3, or you can navigate through all the content online at IFA.com for free.