It's my third day of being sick, so I will simply wish you a great weekend and share an amusing t-shirt I found in Target.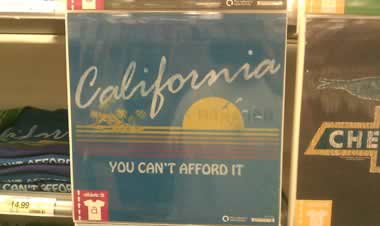 It would be more funny, except it's kind of true for half of Californians:
More than half of the state's homeowners with a mortgage—51.4 percent—spend more than 30 percent of their monthly income on housing costs, according to 2005-2009 estimates from the U.S. Census Bureau's American Community Survey. Renters in California are in the same boat, with 51.8 percent spending more than 30 percent of their income on rent and utilities.

The 30 percent threshold for housing costs has long been a conventional marker of affordability.
Time to suck down more Ricolas…