Updated and revised. Here are the highlights from the April 2017 expense ratio update:
Vanguard Total Stock Market (VTI) is now 0.04%.
Vanguard 500 Index (VOO) is now 0.04%.
Vanguard Total Bond Market (BND) is now 0.04%. In April 2016, it was 0.05%. In April 2015, it was 0.07%.
Background. When you invest in a mutual fund or ETF, the fund company charges you a fee called the annual net expense ratio. If you hold a steady $10,000 in a hypothetical fund with a 1% expense ratio, that would result in an annual charge of $100. These expenses are actually deducted daily in tiny increments from the funds' net asset value (NAV), and while the numbers can seem small they will compound quietly and relentlessly over time. Here is an illustration from the Vanguard website: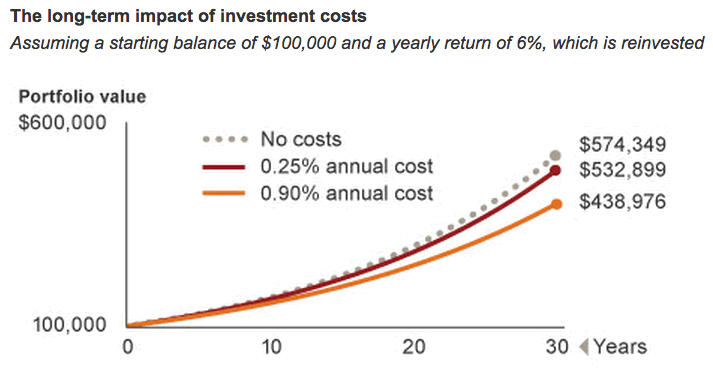 Vanguard has a long history of lowering their expense ratios as their assets under management grow, whereas the industry average hasn't changed very much.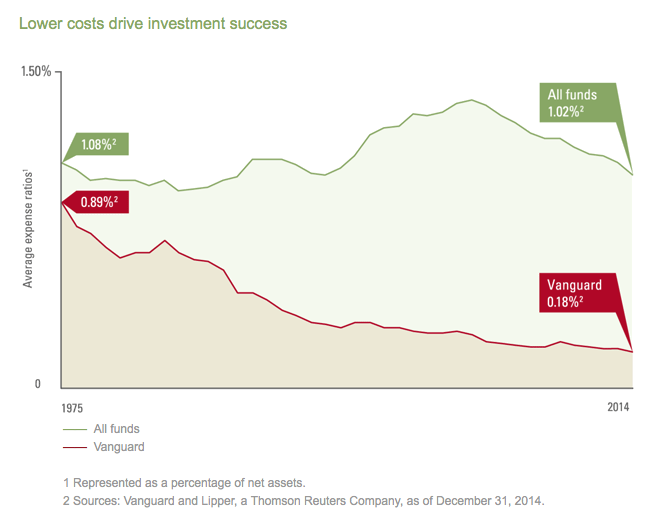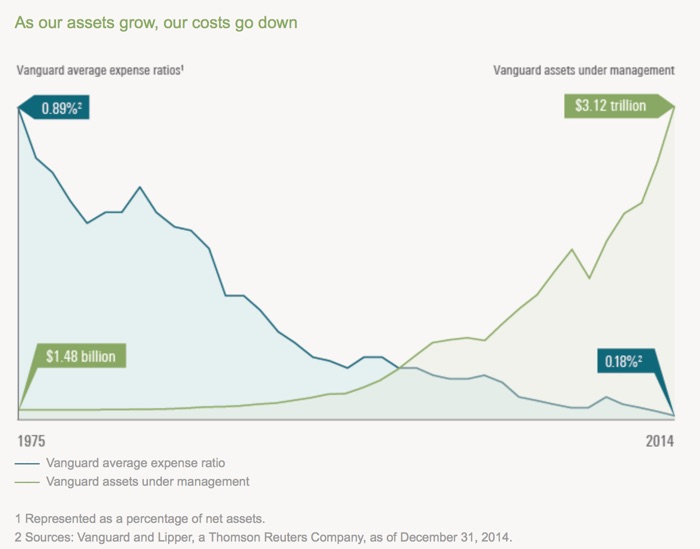 Recent announcement links and past highlights. Note that Vanguard chooses to delete their old announcements after 12 months. I started using ticker symbols for brevity.
April 2017. VTI, VOO, BND all down to 0.04%.
March 2017. VWENX down to 0.16%.
January 2017. VWIAX down to 0.15%. VTIP down to 0.07%. VTINX down to 0.13%.
April 2016. VTI, VOO, BND, VBR, all down.
February 2016. VTI, BNDX, VEU, VNQI all down.
January 2016. Target Retirement 2010-2060 Funds down to 0.14%-0.16%.
May 2015. VNQ up 0.12%.
April 2015. BND down to 0.07%.
February 2014. VXUS down to 0.14%. VWO down to 0.15%.
January 2013. Target Retirement 2010-2055 Funds down to 0.16%-0.18%.
The Vanguard Effect. In recent years as index funds have shot up in popularity, most of the major providers have introduced similar low-cost products (notably iShares, Fidelity, and Schwab). I think competition is great and even Vanguard needs to be kept on its toes. I have bought ETFs from other providers when they are the best available option.
However, you can't ignore the fact that Vanguard is the true leader in the industry. The super-low-cost ETFs only exist where Vanguard has already established itself. If Vanguard hasn't pushed the cost down in a specific area, their competitors know that and keep the costs high. Here's a chart showing the "Vanguard Effect".