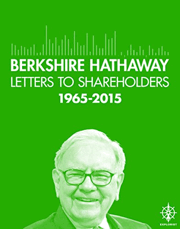 At the bottom of the Berkshire Hathaway 2016 Annual Report, you may not have noticed that Warren Buffett republished a previous article from the 2005 annual report titled "How to Minimize Investment Returns". A version become the first chapter (find it here) of The Little Book of Common Sense Investing by Jack Bogle. I am jumping on the bandwagon and republishing this 2007 blog post below as well. 🙂
It's both a highly recommended parable and it comes at the perfect price of free. Read it if you haven't already.
Original post:
I just watched the Will Smith movie The Pursuit of Happyness this weekend. I found it ironic that he really didn't change job types when he joined Dean Witter. Mr. Gardner started out a salesman, and ended up a salesman. But by managing to change his product to financial services, he turned his tenacity and people skills into millions of dollars.
Why is financial services such a lucrative field? This reminded of an excerpt that I had saved from Warren Buffett's 2005 Letter to the shareholders of Berkshire Hathaway. Although a tad on the long side, I think it provides an excellent "big picture" view of investing the the stock market.