(Updated. Lending Club ended their first day of trading at $23.43 a share, up 57% from their IPO price. With roughly 361 million outstanding shares, LC is roughly a $8.5 billion dollar company! I have updated the post to include the rest of the IPO documents and process. I ended up selling my 100 shares for roughly a $800 gain during the first day of trading. Details and rationale below.)
LendingClub connects individual borrowers with individual lenders, and I've been writing about them since 2007. They successfully had their IPO on Thursday, December 11th, 2014 and they actually set aside a few shares for individual investors. Usually you'd either need serious cash or insider access. If you were an investor at LC by 9/30/14 you should have gotten an e-mail asking if you were interested.
I participated in this IPO for a few reasons:
I've been a lender on LendingClub since 2007 and have been following their progress since.
I have never participated in an IPO before, and am curious about the process.
I view this investment as purely speculative. It is not an investment, it is a gamble!
I can commit as little as $250 and up to about $5,000 (details below). I can choose a number that will keep my interest but it won't break the bank either way.
I've documented the process below:
11/17/2014. I got an e-mail with the subject "Lending Club IPO – Directed Share Program (DSP)" telling me that I was eligible to participate and that I had to opt-in to sharing my information with Fidelity Investments. Here is a screenshot: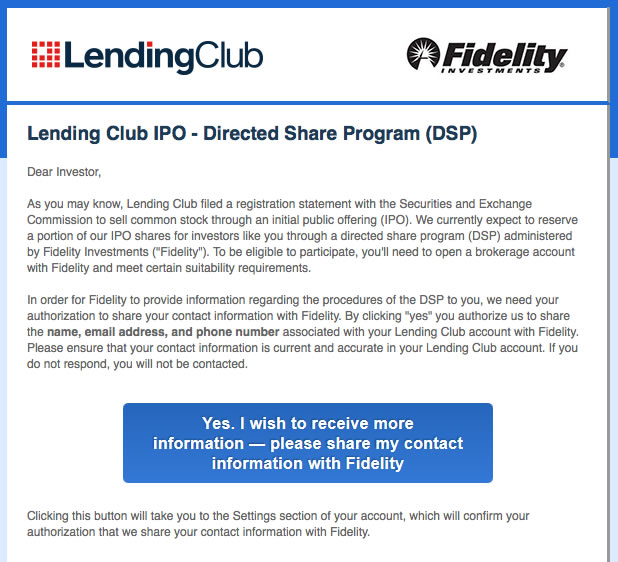 I clicked, and then was instructed to wait. (More below)